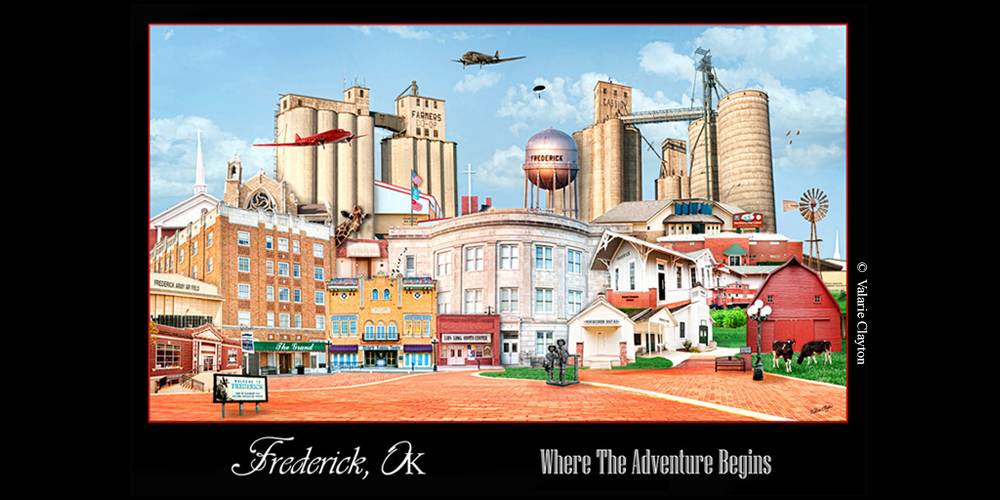 Upcoming Events in Frederick, Oklahoma
2018 Christmas at Pioneer Townsite Tree Decorating Contest
The Tillman County Historical Society would like to invite you to vote for your favorite tree in the first Christmas Tree Decorating Contest being held at the Pioneer Townsite.
The contest, which features eight trees decorated by local groups and businesses, will take place from December 4 through December 19. The Townsite will award two $100.00 prizes: one for Judge's Choice and one for People's Choice.
Although the contest will end December 19, the trees will be on display at the Townsite from through the Christmas holiday.
People's Choice voting is until December 19, during regular business hours, Tuesday through Saturday, 11:30 – 2:30. The Townsite will also be open Tuesday evenings from 5:30 to 7:00 for voting. People's choice voting will be $1.00 per vote.  Voting boxes are in the General Store.
The judge's choice and people's choice winners will be announced Thursday, December 20.
First Baptist Church Free Christmas Meal
First Baptist Church, 11th & Grand Ave, extends an invitation to the community to attend the annual Free Christmas Dinner to those who will be alone or unable to travel this holiday season. To make a reservation to eat or have a meal delivered call the church office at 580-335-2166 by noon on Friday, December 21st. For those asking for more than 6 meals to be delivered, they ask that you please send someone to pick up the meals instead. They will begin delivering meals at 10:30 am, if you have not received your meal by 12:30 pm please call the church so they can make sure you are taken care of. The meal will be served to those dining at the church from 11:30a-1 pm. The meal will be turkey, ham, dressing, green beans, mashed potatoes, gravy, cranberry sauce, bread, chocolate cake, coffee and tea. "We are so grateful to our Heavenly Father for allowing us to provide this ministry to our community and we look forward to setting down at the table with you on Christmas DAy."