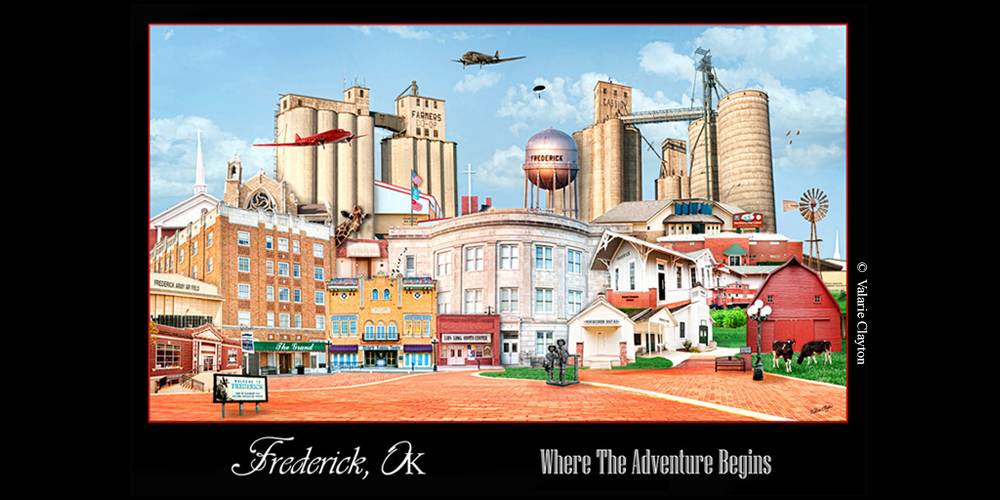 September 29- Sign up meeting for Little Miss Cotton Boll (grades 1-3) and Maid of Cotton (grades 4-6) from 4-6 pm in the Chamber of Commerce office. Registration fee $20. Pageant will be November 5 during the Cotton Festival.
October 1- Trade Day & Downtown Market Click here for more information
October 1- Grand Opening of the Red River Pumpkin Patch starting at 10 am. Click here for more information.
October 1- Frederick Arts Council is pleased to announce that soloist Joanna Smith of Magnolia, Arkansas will be in concert at the Ramona Theatre at 7:00 pm. Joanna will be accompanied by Lance Bohannon and the Frederick High School Choir will join Joanna for a special number. The concert is FREE and open to the public.
October 4- College/Career Day at the Great Plains Technology Center in Frederick from 9-11 am.
October 4- Powder Puff football at 7 pm in Bomber Bowl as part of Homecoming week activities.
October 7- Frederick Homecoming Parade, begins at 1:30 pm with line up at 12:45. Sign ups will be in the FHS office. Homecoming ceremonies will be at 7 pm before the football game vs. Hobart that night.
October 8- Tillman County Historial Society Pancake Breakfast. Watch for more details.
October 7-8-- Frederick multi generation reunion. Activities scheduled for both days. Watch website for details.
October 2-8- Monarch Butterfly Watch at Hackberry Flat Center. Morning (Oct 2, 3, 7 & 8th from 9-11 am) and evening (Oct 2-7th from 6:30-8:00 pm) watches are scheduled. For more information contact Melynda Hickman at melynda.hickman@odwc.ok.gov
October 22- The WWII Airborne Demonstration Team will hold Open Hangar Day from 8 am - 3 pm in the Hangar. The event is free and open to the public.
Job Openings:
Aspire Home Care & Hospice currently has the following jobs open: RN Case Manager apply online at
http://www.aspirehc.com/employment-opportunities/
Southwest Oklahoma Juvenile Center, Manitou, OK is hiring Youth Guidance Specialists and Juvenille Security Officers. More Info: 580-397-3511
Welcome to the
Frederick Chamber of Commerce Website
Business of the Week
183 Flat Country Store
1300 South Main
Frederick, OK
p. 580-335-3528
https://www.facebook.com/183-Flat-Country-Store